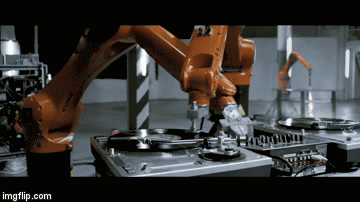 This is a video of musician Nigel Stanford performing his song 'Automatica' with the help of a group of KUKA industrial robotic arms. It kind of reminded me of the animatronic band at Chuck E. Cheese, except nothing like that at all. Plus there was clearly no ball pit here. I remember one time when I was a kid I hatched a plan to hide at the bottom of the ball pit so I could stay at Chuck E. Cheese overnight, which failed because my parents sent my tattle-tale little sister in after me. In hindsight I'm glad I'm glad it didn't work out though because the last thing five year old me needed was to experience a real-life Five Nights At Freddy's.
Keep going for the video (stick around to the end for lasers and destruction), as well as a short behind-the-scenes practice run.
Thanks to Marcus O, who agrees of all the bands to be a groupie for, this is not it.