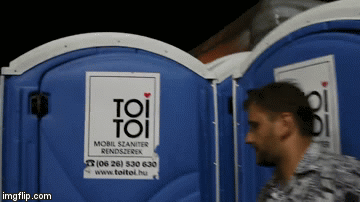 This is a brief video of a secret rave entrance hidden in a Porta Potty at the 2017 Sziget Festival in Budapest. That looks like a good time. I like good times. "Don't do it." Do what? "Run around jumping into every Porta Potty you see hoping to find a secret rave." Come on, who on earth would ever -- where's my other shoe?
Keep going for the whole video while I guesstimate just how many people actually went to the bathroom in there.
Thanks to n0nentity, who agrees we should turn off the lights in the breakroom and all swing glowsticks on shoelaces.