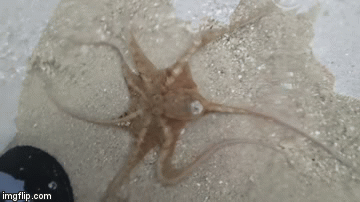 This is a video of filmmaker Pei Yan Heng returning an octopus he found stranded on land during low tide back into the water. After the octopus gets acclimated, it reaches out a tentacle to Heng's boot as if to say thanks before heading on its way. Was it actually saying thanks? Probably not. Who knows though, octopuses are smart. Of course my dog was supposed to be smart too and she spends half her day licking a sliding glass door. Wait a minute....*eyeing door* Holy shit -- they're equations! Call the news.
Keep going for the video.
Thanks to n0nentity, who always thought an octopus's way of saying thanks was not haunting your dreams.