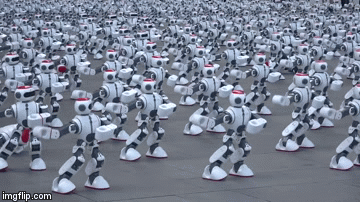 This is a video of the new Guinness World Record for most robots dancing in unison, with a staggering 1,069 of China's WL Intelligent Technology's Dobi robots performing the macarena or some sort of weird robot handjob dance (previously: the prior record of 1,007). There were actually more robots than 1,069 present, but several decided to fall over or not participate. ROGUES. I'm not sure which I fear more -- the ones who did what they were programmed to do or ones who didn't. If I had too choose though I'd say burn them all just to be safe.
Keep going for the video.
Thanks to cam, who agrees it would have been amazing to get to Godzilla through all those little robots during their recital.
Read More:
but i don't feel like dancing
,
but what did you do with all of them after it was over?
,
choreography
,
congratulations?
,
dancing
,
hmm
,
meanwhile in china
,
once more with feeling
,
records
,
robots
,
so that's what that looks like going rogue
,
spirit fingers
,
that's a lot of robots
,
the end nears
,
world records
,
yeah you did