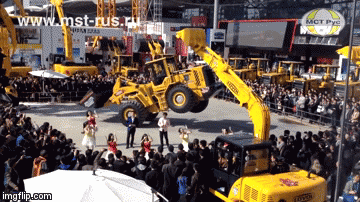 Man, and I thought I was a dancing machine. This is a video from some sort of heavy machinery trade show (or a Transformer circus) of a 37,000 pound Lovol Heavy Industry Co. FL958G-II Wheel-Loader dancing and bouncing around on two wheels for the audience, while two dudes sing and a handful of women dance. You know it all makes perfect sense if you think about it and your brain is complete shit.
Keep going for the video while I fire off some emails trying to get a press-pass to the next one of these.
Thanks to Gary G, who likes the little fence they put up, like people would actually want to get any closer, or that it could stop an out of control 18-ton land mover.