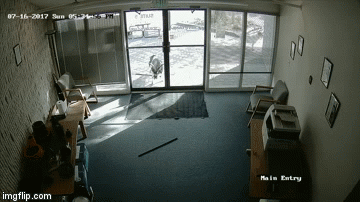 This is some security cam footage from polyurethane manufacturer Argonics Inc.'s Colorado office capturing a billy goat who refuses to leave the area until its shattered both of their glass doors. It is a perfect example of trying hard and believing in yourself. It breaks one door at 0:11, at which point you can see the rest of its goat accomplices take off running in the background in case the cops come. Then it returns to finish off the other door. So, what's up with all these goats running around wild? Is that a thing? I've lived in a city for so long I've forgotten what nature is like. I saw they planted a small tree in my neighborhood the other day. "How was that?" A homeless man was using it to scratch between his buttcheeks.
Keep going for the whole video.
Thanks to Rodrigo, who agrees goats are crazy, especially their horizontal pupils.
Read More:
animals
,
breaking and not entering
,
breaking the law
,
breaking things
,
glass
,
having a great time
,
heck yeah
,
like a bull in a china shop
,
man i wish i was a goat that could just run around breaking things with my head all day that sounds like the life
,
smash
,
what did that door ever do to you?