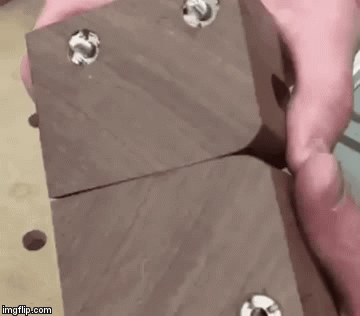 These are a couple video demonstrations (one very short, one much longer and way more in-depth) of the Lamello Invis MX magnetic drill ($565 on Amazon HERE). It uses magic to screw specially designed screws into specially designed bolts hidden inside two pieces of wood to create invisible joints. "I've got an invisible joint right here." Awesome, and I've got an invisible lighter, let's blaze it up and get expelled from invisible school.
Keep going for the videos.
Thanks to Thonger, who connects wood the really old fashioned way: planting two trees next to each other and waiting for them to grow together.
Read More:
building things
,
construction
,
hidden
,
hocus pocus
,
how do they work?
,
i wish i was a better woodworker i used to watch the new yankee workshop on pbs with my parents when i was a kid and dreamed of building a bench
,
interesting
,
invisible
,
magic
,
magnets
,
sure why not
,
whatever works
,
wood
,
wood is good
,
woodworking