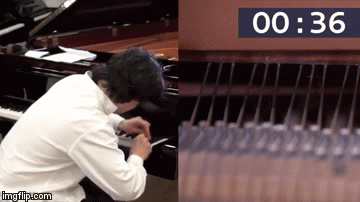 This is a video of Domingos-Antonio Gomes of Portugal setting the Guinness World Record for the most piano keys pressed in a minute, with a staggering 824 hits (beating the previous record of 765 set by Hungarian pianist Bence Peter). Interesting technique, I would have guessed the record would be set by running your hands up and down the length of the piano, not just focusing on two keys. Would that have actually been slower? Would it not have counted? Can this guy masturbate in the blink of an eye?
Keep going for the video.
Thanks to Andy, who agrees it's not the size of the pianist that counts, it's how you tickle the ivories.
Read More:
congratulations
,
dare to dream
,
dream and you can achieve
,
everybody needs a hobby
,
fast
,
instruments
,
making beautiful music together
,
man i'm great at pressing buttons especially big red ones labeled do not touch
,
pressing things
,
quick
,
sure why not
,
the flash is that you?
,
trying hard and believing in yourself
,
what a time to be alive
,
world record