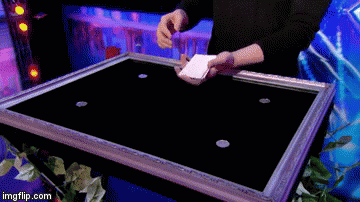 This is a video of real-life magician Will Tsai's performance on America's Got Talent (debatable, Will appears to be the exception and not the rule). He performs a mind-blowing disappearing coin routine. How did he do it? There's some speculation he used a giant tablet display and some sleight-of-hand, or a table covered in darker-than-dark fabric with a bunch of flaps he could use to hide and expose the coins. Neither one of those makes sense to me. And then there's the simplest, and most likely correct explanation: he's an honest-to-God sorcerer.
Keep going for the performance, then leave your "fake, the shadows are all wrong" explanation in the comments.
Read More:
but are there any coins behind my ear?!
,
coins
,
color me impressed
,
don't blink
,
holy smokes
,
impressive
,
magic
,
no but seriously how did you do that i want to be able to sleep tonight
,
now you see it now you don't
,
oh wow
,
skills
,
sorcery
,
you're hired gather your things the side-show heads to our next stop on saturday