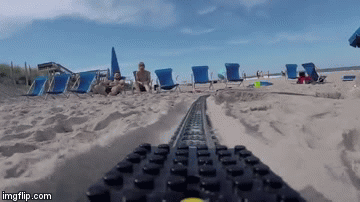 This is the video of the gravity-powered LEGO roller coaster built by Robert Carlson and friends at a beach in the Outer Banks of North Carolina (previously: something very similar done with Hot Wheels cars). The first person point of view was particularly fun -- I felt like I was right there roller coastering along the beach. Now my boss is yelling at me for daydreaming on the job. Or is that still part of the dream? Oh, no, it's real, and apparently I forgot to do something important at work today. *yelling continues* Alright, alright, make sure to put my pants back on before leaving the restroom, I've got it.
Keep going for the video.
Thanks to Cameron, who agrees everybody has fun at the beach differently. Me? I just yell shark over and over while pointing at people in the surf and watch them run.