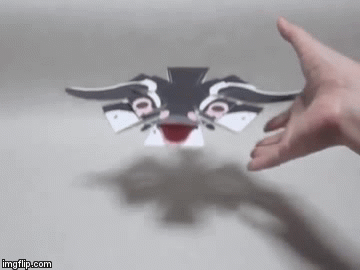 This are a couple video demonstrations of a Penguin Bomb, an paper sculpture created by famed paper artist Haruki Nakamura. It explodes from a flat shape into a penguin when dropped on a hard surface. Pretty clever. And by pretty clever I mean very clever. And by very clever I mean how do people come up with this stuff? I don't even understand how popcorn bags work. "You're supposed to put them in the microwave." I did! "Then push the buttons." Defrost? This is why I wish my mom had a stay-at-home job.
Keep going for the videos.
Thanks to Linby, who agrees they'd be even cooler if they exploded into a 10-piece bucket of fried chicken.
Read More:
arts and crafts
,
birds
,
boom -- penguin out of nowhere
,
clever
,
dropping things
,
engineering
,
explosion
,
how do people come up with this stuff?
,
i believe i can fly i believe i can touch the sky think about it every night and day spread my -- dammit i'm a penguin aren't i?
,
kaboom
,
neato
,
origami
,
paper
,
penguin
,
something out of nothing
,
things that look like other things
,
toys