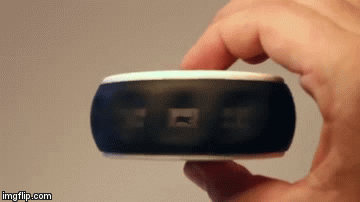 This is the 3-D printed fidget spinner created by designer Jonathan Odom. It has a zoetrope of a running cat inside. Although, being as large as it is, is it really a fidget spinner anymore? I think it's just a handheld zoetrope. That thing would barely fit in my pocket. Speaking of: one time I had a can of tuna in my pocket (I ran out of cat food) and some guy on the street asked if it was chewing tobacco and I said no it's tuna and he told me I wasn't a cowboy which hurt my feelings because I've always considered myself somewhat of a modern cowboy so I told him to meet me in the middle of town at high noon for a pistol duel but I didn't show up because I'm not trying to die on a Saturday when there's still so much more weekend left to live. For the record though, on a Monday I absolutely would have shown up with no guns.
Keep going for a video.
Thanks to Dunc, who agrees the coolest fidget spinners are pinwheels.
Read More:
3d printing
,
all the rage
,
animation
,
dare to dream
,
fidget spinner
,
here kitty kitty
,
hmm
,
i am too a cowboy i wear the boots and everything
,
man i was *this close* to buying a fidget spinner in the check-out lane at the grocery store but there was no price and i didn't feel like asking or being surprised
,
meow?
,
neato
,
plastic
,
so that's what that looks like
,
sure why not
,
video
,
zoetrope