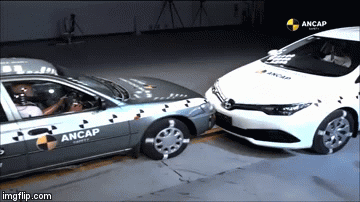 This is a video of a 1998 and 2015 Toyota Corolla smashing into each other in a partial-overlap crash test at 40MPH. The test was purportedly funded by Australia and New Zealand's safety advocate group, the Australasian New Car Assessment Program (ANCAP), although I suspect it was actually funded by car manufacturers to encourage people to buy new cars. Obviously, the 2015 model fared much better than the 1998, which "sustained catastrophic structural failure" and scored a zero out of five stars safety rating (the 2015 scored a five). So, if you had to choose between a 1998 or 2015 Toyota Corolla to be involved in an accident, choose the 2015. But, if you can choose any car, pick a tank. Preferably one with flames painted on the sides to make it look extra bitchin'.
Keep going for the video, but skip to 1:30 for the actual test and results.
Thanks to Dougie, who agrees nobody should be allowed to drive over 30MPH. It's unnatural.
Read More:
accidents
,
and right in time for memorial day car sales
,
be careful out there folks
,
cars
,
crashing into things
,
damn
,
dear god
,
destroying things
,
getting around
,
i'm on to you toyota don't even pretend like you weren't behind this
,
note to self: lease a new car or you will die
,
safety first
,
transportation
,
video