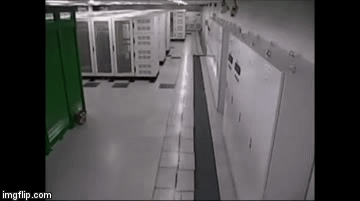 This is some security cam footage during the 2011 Tōhoku earthquake in Japan of a server room built with a seismic isolation floor . Engineering: it's amazing. No word what those servers contained, but my guess is some incredibly valuable porno.
Hit the jump for the video while I jump up and down in the elevator and scare everyone heading out on their lunch break.
Thanks to Brenna D, for inspiring me to earthquake-proof my apartment, which was easy because I live in a 2001 Ford Explorer.
Read More:
computer
,
engineering
,
i liked the people walking back and forth being chill i don't think i could have been that chill
,
impressive
,
japan
,
maybe those host geekologie!
,
natural disasters
,
oh wow
,
problem solving
,
smart thinking
,
the internet
,
the series of tubes must remain intact
,
whatever works