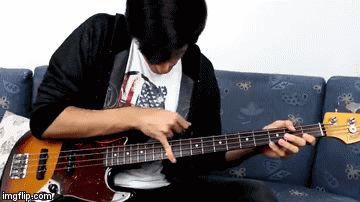 This is a video of musician Davide Biale (aka Davie504) performing a surprisingly impressive one-finger bass solo with his pinkie. I learned a lot by watching it. Mostly that Davide does, in fact, have more talent in a single finger than I have in my entire 199.6 pound body. That's right, folks -- after months of diet and exercise, I'm finally under 200 pounds. "You just cut a leg off, didn't you?" Peg legs are significantly lighter than actual legs. Now, I'm going to distribute these noise makers and party hats and I want you to all congratulate me. Plus follow my body-transformation on Instagram. I'm hoping by mid-summer I'm a full-blown pirate captain. "You're going to cut a hand off too?" Just as soon as my carbon fiber hook gets here.
Keep going for the video while I Google how much all my non-vital organs weigh.
Thanks to JD, who claims he knows a guy who plays the banjo with the one tooth he has left.