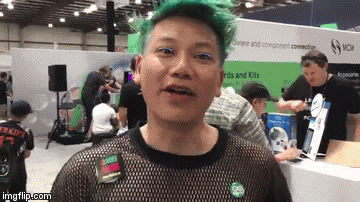 This is very brief video demonstration of the F.Lashes interactive LED eyelashes invented by designer Tien Pham. Obviously, I need a pair for Halloween to complete my cyborg alien stripper costume. I'm going to win the costume contest this year. Or lose and try to fight all the judges like I have every other year.
Made with actual LEDs, the lashes come in pink, red, blue, light blue, white, yellow and green, and they have different modes, including scroll, dance and sparkle, that can be switched by the click of a button. How exactly do they work? "They are powered by a watch battery and will last up to 4 hours," Pham says. "I wanted to keep them lightweight because the controller is attached to the back of your head by hair clips. There ARE thin wires that connect to each eyelash, but they are nearly invisible unless someone is close to you." And in case you're wondering - the light is not blinding. "In fact, I often can't tell I have them turned on," Pham says.
Pham plans on launching a Kickstarter for the party lashes sometime in July, so if you're interested you should make note of that so you can follow up. Me? I don't believe in follow-ups, especially not at the doctor's. "But we need to take the stitches out." THEY'RE PART OF ME NOW.
Keep going for the video while I start a rave in my cubicle.
Thanks to Kelly H, who's holding out for interactive LED eyebrows with enough lights to scroll text so she can Halloween as a stock ticker.