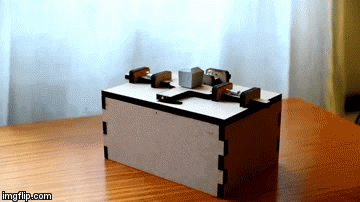 This is the locking cookie box crafted by Thijs Sondag and his friend Gustav. It requires at least three hands working simultaneously in order to unlock. Don't have three hands? Me neither, although a TSA screener once mistakenly thought I had three legs*wink* So, yeah, you're gonna need a friend to open it. Or a hammer. When reached for comment about the box, Cookie Monster ate the whole thing without even chewing because he's an addict with a serious problem that Sesame Street should have addressed if they were more socially responsible.
Keep going for a video of the box being opened. You can find the instructions to make your own HERE while I text everybody in my phone to come over so I can finally have a cookie.
Thanks to Dougie, who agrees cookie boxes and cookie jars are for people who don't know how to cookie right.
Read More:
body parts
,
box
,
building things
,
cookies
,
dammit somebody come over i need a cookie
,
dessert
,
diy
,
do it yourself
,
eating things
,
friends
,
interesting
,
little help over here!
,
lock
,
locking
,
my mom used to hide the cookies in packages of wheat thins
,
self control
,
sure why not
,
sweets
,
thank you for being a friend
,
whatever works