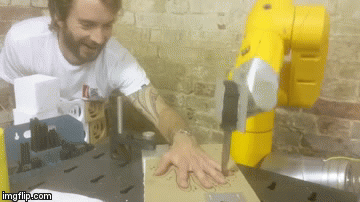 This is a video from the folks at Irfon Automation demonstrating the precision of their Stäubli TX40 industrial robot by having it play five-finger filet with some guy's hand. SPOILER: it never stabs him. At least not on camera. Although I assume after the camera stopped rolling it murdered everybody in the room, and this footage was found by bandits who raided the facility looking for metal scraps to sell. They then decided to try to monetize this video on Youtube. At least that's my guess what happened, and my guesses are always right. "You said Abraham Lincoln was going to win the presidential election." And he did, in 1860.
Keep going for the whole video.
Thanks to Alan, who agrees the best way to play five-finger filet is with somebody else's hand.
Read More:
body parts
,
dangerous
,
feeling stabby
,
games
,
getting hurt
,
getting stabby
,
i was half hoping this was going to be a joke video and there were going to be fountains of blood everywhere
,
knife
,
risky
,
sharp
,
stabbing things
,
taking risks
,
video
,
what the hell is wrong with you?
,
yeah you did
,
you fools