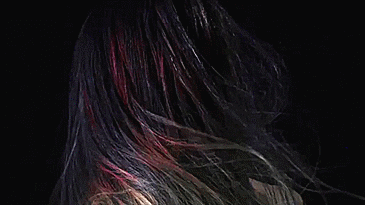 The Unseen, a company founded by Lauren Bowker has developed FIRE, a hair dye that changes colors based on temperature. When cool, the hair appears dark, and the hotter it gets, the lighter and more vibrant the color gets. The dye will be available in a variety of vibrant and subtle colors, and is semi-permanent so it should last through a few washes. Me? I only wash my hair twice a month to save on shampoo and conditioner even though my shampoo and conditioner is 3-in-1 shampoo and conditioner and body wash I bought from the dollar store for a dollar. There's a sticker on the side that says it contains every ingredient known to cause cancer in the state of California.
Keep going for a couple more gifs while I dig my old Hypercolor shirt out of the closet. You can see a bunch of videos on color changing hair on The Unseen's Instagram page HERE.
Thanks to Jackie, who just wants hair that looks and feels like silk like you see in all the commercials.