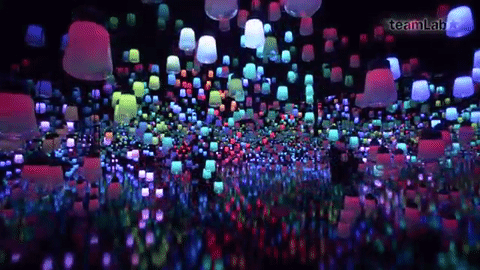 This is the Forest Of Resonating Lamps, an art installation created by TEAMLAB featuring a bunch of individually color-controllable hanging lamps in a mirrored room. It's like you're right in the middle of a technicolor paper lantern festival. Man, I would love to have a room like this in my house. Honestly, I'd just love another room, period. And mirrored walls would definitely be a plus. Now I know what you're thinking and no, not for doing the naughty, the last thing I want to see is myself with a brown grocery bag over my head. "PUT IT BACK ON." Honey I'm trying to cook breakfast!
Keep going for a hypnotizing video of the room.
Thanks to CRAM, who agrees that would be an awesome room for a slumber party. Let's order a pizza and a couple two-liters of soda and stay up late talking about who we like at school!
Read More:
art installation
,
beautiful
,
colors
,
cool
,
hypnotizing
,
i am into this
,
i want that
,
let there be light
,
light effects
,
lighting
,
lights
,
look at all the pretty colors!
,
look at all your different colored hats!
,
mesmerizing
,
neato
,
now do this in my bedroom
,
now let me in there with a pinata stick
,
paper lanterns
,
taste the rainbow