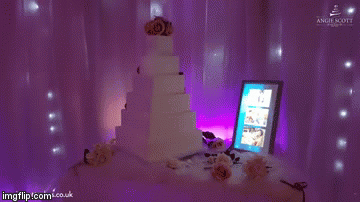 This is a projection mapped box-tier wedding cake created by UK pastry chefs Angie Scott Cakes. It has fire effects, Pac-Man and Angry Birds displays, and even has a Disney castle inspired video. It's basically the exact same as this projection mapped cake created by Disney for their wedding packages back in 2014. Still, you know what they say -- imitation is the sincerest form of trying to profit from other people's ideas. Not that everybody shouldn't be able to projection map wedding cakes, I'm just bitter my wedding planner convinced me to go with pies instead. I don't even like rhubarb. "I love it." I know you do, DAD.
Keep going for two videos.
Thanks again to Stevie, who's still pissed I ate the piece of wedding cake he was saving for his one year anniversary. I'm sorry, you wanted that 3AM diarrhea?